My name is Geraldine Odette, I was brought up in Africa where I lived and traveled extensively throughout the continent. It is my travels around the countries of Africa and observing the wildlife that lead me to want to capture the beauty of the animals and their environment in my art.
My painting started as a hobby but has developed into my profession as more and more people wanted to purchase my works.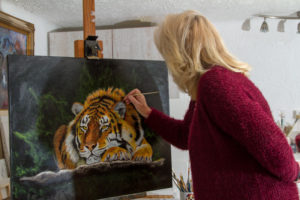 On my return to the UK from Africa I shared a gallery in Kent and also exhibited throughout the UK as well as in West and North Africa. My first ever "one woman exhibition" at Winchelsea was a sell out and were purchased by collectors world wide. One of my paintings is owned by the former Archbishop of Canterbury, George Carey.
I now live in Spain, where I work daily in my home studio. Each painting can take many weeks to capture all the detail of my subject in oil, which results in realistic pieces of Wildlife Art. I have also visited India and Sri Lanka have developed a love for Tigers which I have reflected in my paintings of these majestic animals.
Ever since I can remember I have had a love of animals and nature, which had a great influence on me becoming a wildlife Artist.
I aim to portray the subjects of my paintings realistically but have now begun taking an exciting and rather different approach to some of my. I have been experimenting with colour form and symbolism. Some are inspired by my fascination with the colours found in nature and this has lead me to explore the form and movement of dancers which is a new direction for me. I intend to develop my 'dancers' paintings by taking advantage of the displays by flamenco dancers here in Spain.
I was interviewed at my gallery in Kent by local television and was asked
"What does painting mean to you?"
My reply was:
"My love and feeling for Africa and India cannot be measured. Africa will always be in my blood. My only wish is that I might convey through my paintings the preciousness of these lands and animals, that must be saved from extinction for future generations to behold".